Year 4
Welcome to our Year 4 page
This term is called 'Blue Abyss' which means we have been researching about the strange and wonderful creatures that live in our seas and oceans. We have already been fascinated by the Blue Planet and have some extraordinary homework examples. Check back soon for pictures and some exciting news...
Last term, our topic was called 'Potions' and we had been looking at the story of Alice In Wonderland. The adults even dressed up; Miss Martin as Alice, Miss Musson as the Queen of Hearts and Mr Farmer as the Mad Hatter (shame we don't have any pictures as proof!)
In our first term, we did so many exciting things related to our topic 'I am Warrior'. Have a look below for some pictures and videos of our exciting adventures as Roman Soldiers.
As you might know, we took a trip to The Deep on Wednesday 24th of January. It was an amazing day with everybody able to come and learn lots of new things! We were even lucky enough to have Mrs Pearson, Mrs Kilburn and Miss Carruthers come along too. Please have a look below for photos and even a special video...
On the 12th January, we learnt about the different layers of the ocean, starting with Sunlight, then Twilight and getting darker into the Midnight zone. Below this are the Abyss and the Trenches, but we focused on the top three layers for this experiment. As you can see, we used blue food colouring, water and oil to make our own ocean layers. It was very messy but good fun!
WOW! Look at our Topic display after only one week back. So much homework including beautiful pictures and interesting facts, it is wonderful to see Year 4 so engaged. Please look below for some closer pictures of individual children and the ever growing board!
On the 13th December, we experimented with some strange substances that reacted differently to what we expected. First some sand that actually repels the water and stayed dry...called hydrophobic.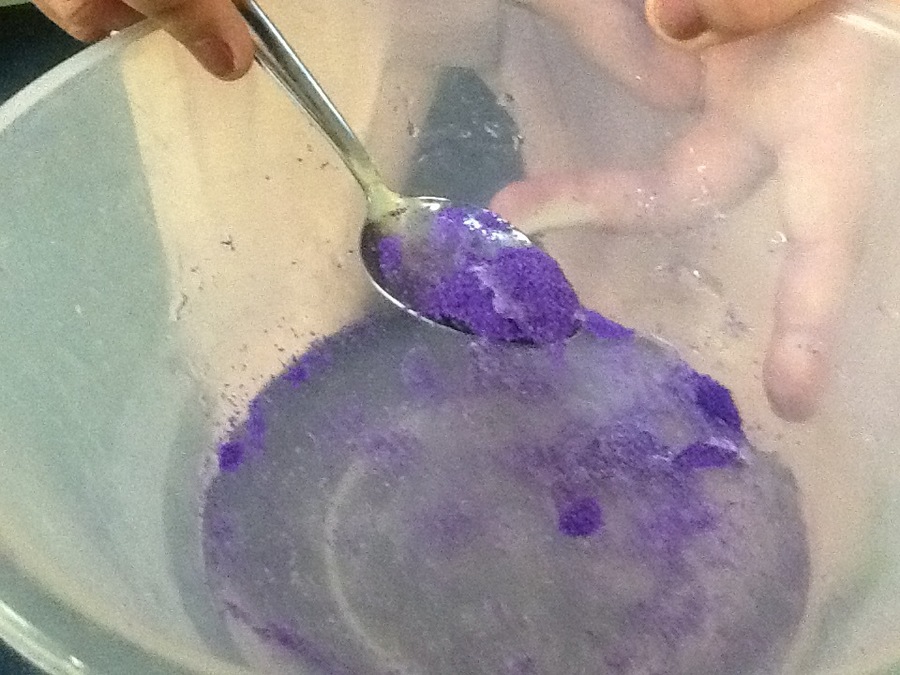 Next, another type of sand that was simply called magic sand and so it was! If you played with it, it stuck together like wet sand meaning you could build shapes out of it. But then you could sprinkle it back into the normal beachy stuff.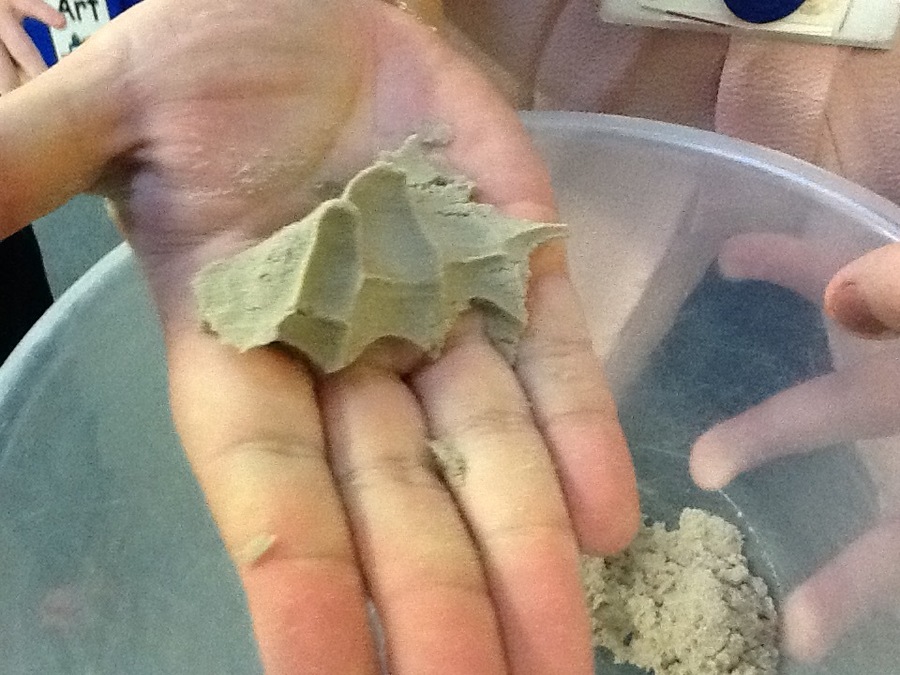 Finally, we mixed together cornflour and water which made a slimy mess. When slowly poked, your fingers could go into it but when some pressure was applied, it was rock solid. We had so much fun playing in it...take a look at the weird substance.
Following melting ice cubes experiment last month, we expanded it to learning about evaporation and condensation. Look at the pictures below to see how holding the ice cubes above hot water fogged up the clingfilm. This took place on the 11th of December.
On the 8th of December, we tried an experiment Miss Musson asked Miss Martin to do about dissolving Candy Canes. Take look at the slideshow to see how well it went. Don't worry, we didn't eat the ones you see in the water, we ate the spares. There were a lot of sugar filled smiles.
On the 26th Of November, as part of our science parts of this topic, we looked at melting. Miss Martin gave everyone an ice cube within a bag and we had to problem solve to melt it in the fastest way possible. Some pupils broke it into smaller pieces, some used their hands as friction to warm it up and some other clever clogs decided to use the radiator (and very brave Phoenix decided to stick up her jumper!)
On the 17th of November. it was Children In Need and Year 4 dressed up just for the occasion, raising lots of money for the charity too!
On the 13th of November, we had a science experiment that was rather messy (as usual). We had to predict and test a variety of liquid materials to find out which one was viscous (very sticky!). We had oil, yogurt, honey, water and milk...watch the video below to see which material won the messy race!
On Wednesday the 8th and Thursday the 9th of November, we had Enterprise week which meant we were busy making salt dough decorations ready to sell at the Christmas Fair. Our plan is to paint them soon. (Please excuse the blurry camera)
We have even had some potions appearing the classroom, ranging from Frog juice to instant make up application. Do you dare to try some?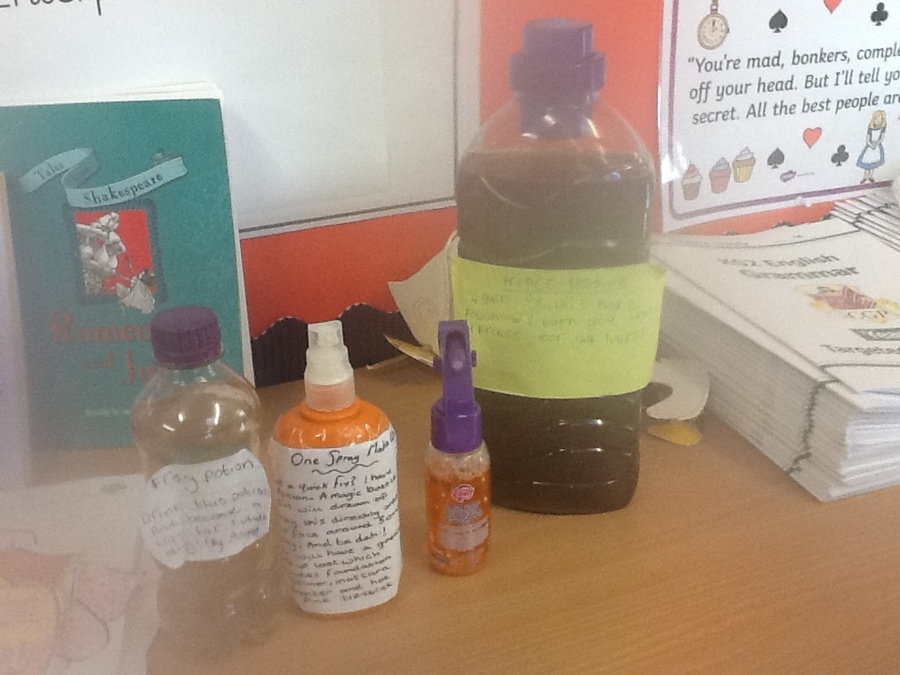 Speaking of potions, have a look at our gallery of when we made our own by using our vivid imaginations; red food colouring became dragon's blood, a handful of peas became eye of newt and strands of spaghetti turned into an evil witch's hair. What else did you have in your potion?
During one science experiment, we discussed the three states; gas, liquid and solid. We separated into two teams and had a race to see who could fill up a balloon quicker with gas made from mixing baking powder with vinegar. As you can see from Jack's face, it was very smelly!
This is our topic display, starting to fill up with wonderful creations and plenty of space left to display great learning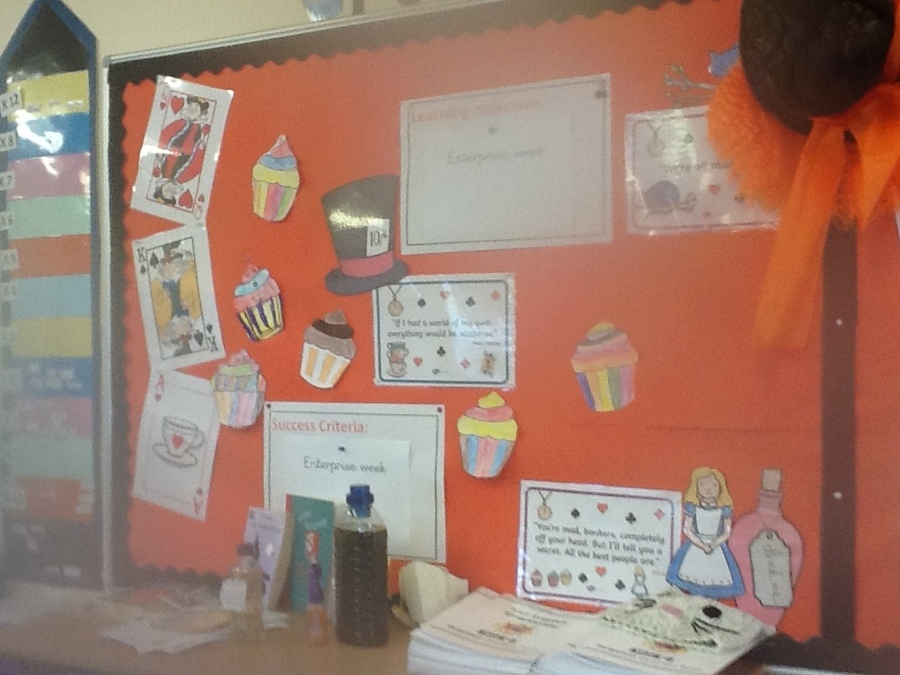 We even performed a class assembly in front of the whole school and Year 4 parents including singing some songs that helped our learning and some amazing acting.
This is the introduction and the first song "Just Like A Roman"
Next, our similes about Julius Caesar
After that, our Boudicca stories read aloud for others to act out
Now it is time for our Roman Numeral song that proved to be a hit with Mrs Simmonds!
Finally, we have the questions and answers section before our bow.
But here are some pictures and videos from our rehearsal in the classroom
This is our first song, only the chorus...Just like a Roman!
And some simile masters at work
So now we have a fantastic collection of things on display outside our classroom and in the shared area! We each wrote a fantastic soliloquy about the night before battle that was then put onto tea stained paper to make it look old and found two thousand years later. Then some mosaics are on display, can you tell what they represent? Only the richest Roman would have decorated their homes with this medium of art. Miss Musson also put up our Roman soldier pictures mixed with battle formation to create a unique display that shows off our fierce warriors.
Can you see yours?
On September the 26th, Year 4 were lucky enough to be able to visit Lincoln Castle. It started with a tour around the castle walls...
Next we went into the grounds and learnt more about battle formations and even had a fight between the Romans and the Celts...
After that, we designed our Roman shields and even got to try on authentic or replica armor...
Finally, we got to split into two smaller groups and explored what it would be like to be an archaeologist (a person who excavates artefacts) and then had a peek at the castle's collection of Roman findings.
One eventful day we made Roman bread. It was a simple recipe and we had lots of fun kneading the dough until it was ready to prove and then into the oven. Once baked, we all got to try some with either butter or honey (or without either if you didn't want to). Then some lucky adults around school got to try some, Mrs Drayton went back for seconds (and thirds). It was DELICIOUS!
In an afternoon topic session, we built our own catapults to understand how the Romans used their weapons. Have a look at some of the pictures and figure out how we did it with only some rubber bands, sellotape, lollipop sticks and a plastic spoon.
(And obviously the most fun part was testing out how far it would fly, some even went over one metre!)
One of our science experiments was finding out about what the Romans used as toilet paper....EWWWWW!!!
Don't worry, we used Nutella, not the real stuff. We predicted which material (toilet paper, leaves, moss or a sponge) would work better and explain why. What do you think would be the best at cleaning it up?
Here is a video of our battle formation session!
This is the first gallery displaying our brave Roman soldiers. Some of us chose to grimace and scowl to make a scary battle face to chase away those pesky Celts!